As all the worst stories begin, I found myself on pintrest and stumbled onto a new project.  Hosting movies in my backyard with a projector.  The idea is not so far fetched, movie goers have loved watching their entertainment outdoors throughout history. Nostalgia, etc.
I did some research into the idea and pre-built screen kits.  The cheapest pre-build kits are on ebay.  It does not matter where you would purchase your kit online, none come with the poles.  Too big and expensive to ship.  Visiting the hardware store to look at PVC poles, I also look at connectors in the plumbing isle.  There I see all the parts that they charge a bundle for in a "pre-sorted" kit online.
I based my design on the kit instructions found on creativeshelters.com.  They also sell "ruggedized" connectors and screen material to build your project.  I did purchase my screen material from them, more on that later.  I modified the screen frame design to have the whole thing break down into easy to transport lengths, 6 feet.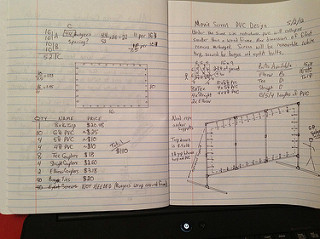 Yes, that is a little doodle of me standing next to the giant screen.  Estimated frame size is 12 feet tall.  I did adjust my design while building.  The frame width is 18 feet, too long for no center supports, so I swapped out the 3way T connectors for 4way + connectors. In addition, I did not use all the bungee ties.
Part List
1 – 8×16 White Tarp
8 – 10 foot PVC poles, 1 inch diameter
2 – Elbow 2way connectors
8 – T 3way connectors
6 – Straight 2way connectors
2 – + 4way connectors
100 feet of rope
6 – Ground stakes
2 – 3 inch bolts and wing nuts
Assembly went fast, PVC cuts like butter with a power saw.
I assembled the whole thing on the ground, with the feet rotated.  Then made a two man lift to stand the screen upright and rotated the legs back around.  Very effective and with the rear diagonal supports, the frame is VERY solid.  Added the 4 stakes and rope to the top, to keep any wind from blowing the whole thing down.  Then because the 1 inch PVC started to buckle under the strain of all those bungees, added two more ropes midway on each side.  Straightening the long vertical PVC stretches.
Standing the screen up was a marvel to behold. It was exactly as large as I had on paper, but somehow my imagination wasn't able to comprehend the size until I saw it standing in fantastic glory!  Frame size is 12×18′ screen size is 8×16′.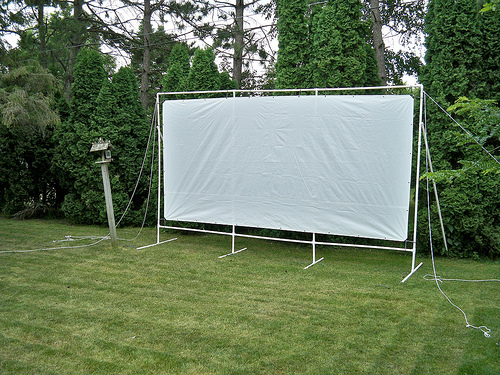 Conclusion
Had a good turn out for the premiere night, everyone was impressed by the screen's size.  Bright scene's of movies highlighted the flaws of using a tarp, because with a mostly white picture you are just staring at a white tarp and all it's seams.  I will keep that in mind going forward to choose darker movies.
If I had to do anything over, I would bump up the 1 inch PVC to something stronger to prevent buckling.  Like 1.5 inch PVC or aluminum pipes. Replacing the tarp with a proper blackout cloth is also a planned upgrade, as suggested by this DIY.