Mini NES Build w/ Functioning Cartridge Loader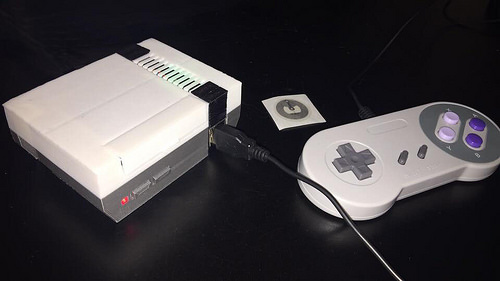 This is a summary post about my Mini NES build. This project is a derivative of the original efforts of DaftMike. I used his 3D print files and basic source code, then reverse engineered the circuit from his Electronics Kit that allows the Raspberry Pi to talk to a NFC reader and an Arduino to control power. Improving on the design with added features such as Fan Control and NFC Writing. While also fixing bugs including lost Controller Configuration, Bad Power, and allowing Out of Order Assembly.
If you are interested in making one of these, you can checkout my build instructions here:
Complete Guide: How to make a Mini NES~!
Features:
NFC Reader I2C will read tags to launch games AND write tags based on the last played game selected from EmulationStation. No additional devices or software needed to write tags.

Working Front Panel POWER and RESET Buttons with functionality not limited to launching games and safe shutdown of the pi.

Red Front Power LED (basic system status)

MultiColor RGB LED (advanced system status), can be disabled if distracting while playing with a simple double button press.

Power cut off circuit, similar to the popular Pi PowerBlock kits.
Cooling Fan turns on/off based on temperature.

USB Socket Extender to reposition the Raspberry Pi's USB ports to the front of the case.
A full set of the design files (pcb and software) are available on Etsy (WestabyElectronics).