Ghostbusters 2016 Proton Pack
Proton Packs are special for me.  A proton pack was the first costume prop I ever made and was very much a junk build.  Working light and sound circuits and only the alice frame is screen accurate.  I worked on mine in parallel with my brother, so we could both be Ghostbusters for Halloween 2008.  I have been making props and commission circuits ever since.
My original proton pack took me 3 months to research and construct, start to finish.  So when my wife told me she wanted to be Ghostbusters for Halloween 2016, my reaction was to skip the proton pack for her costume.  Stick to the jumpsuit and arm patches, then she can borrow my PKE meter for the night.  But as the wedding date came and went, I found a youtube video by indy mogul of a junk build.  That was all the inspiration I needed.  Some quick research on gbfans in the Reboot Pack parts identification thread and I was able to complete my wife's proton pack in 8 days.
If you would like to make one of these. All my plans, references, part lists, source code, etc… are on Google Drive.
Light Animation Demo Video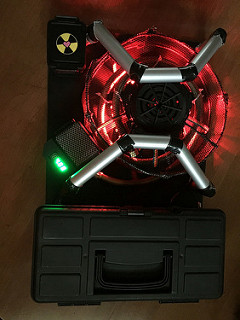 Links to my original proton pack builds: