Halloween Yard Display: Alien Spaceship Crash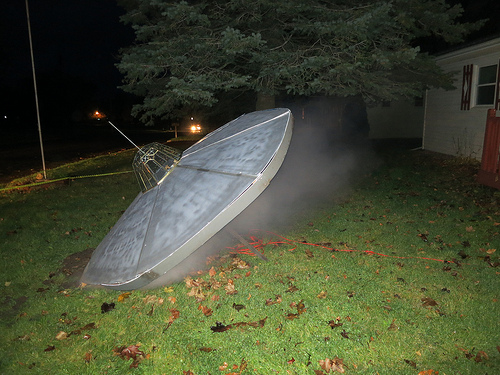 History:
I moved to a new neighborhood over a year ago, and as Halloween 2012 approached I quickly found out that tricker treating participation on my block is very low.  Standing on the street, I looked up the street and down, seeing two other neighbors aside from myself with porch lights on.  Overall, the street was dark and parents didn't lead their kids down my street.  This all resulted in me counting less than 10 kids to my door, and me with leftover candy. Sad face.
Halloween 2012: Yard Display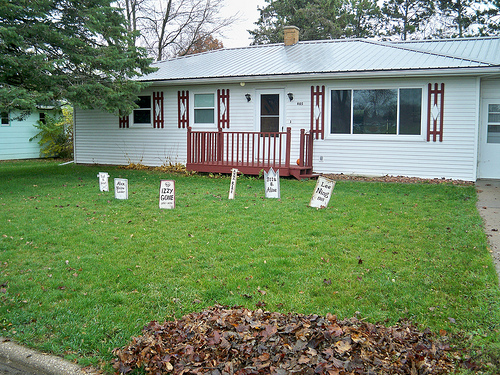 The graveyard from last year was great and I got plenty of compliments for the clever names (written by my Mother and her pinterest browsing).
Izzy Gone
Yul B. Next
Alex Blaine Laider
Otta B. Alive
Lee Ning
Anna Rexic
The graveyard was great and there was favorable weather halloween night.  None of that mattered for 2012.
Halloween 2013: Yard Display
Fast forward to this year to up the ante. A spaceship crash scene with alien visitor.  More pictures are on Flickr.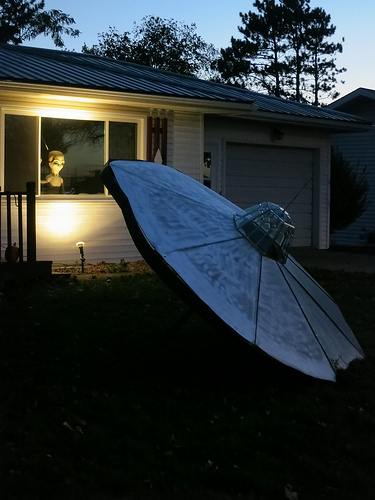 I didn't know where to start, so I asked a few friends to help with the spaceship design.  Below the inner structure is shown.  The support beams were made from 2×2 wood.  The paneling is made from corrugated plastic (normally used for outdoor signs).  The top dome is the heaviest piece made from a glass chandelier.  I would have rather made the dome from plastic, but a large sized plastic dome is hard to find as junk.