New Beginnings – Sword 2014
Announcing a new sword electronics design and a partnership.
I have been working alone the past years on an updated energy sword circuit design.  Something that would allow me finer control of the LEDs without the burden of soldering the old massive LED arrays.  Details of my 2009 sword design.
Joshua Kane had been working independently on his own sword controller circuit, build completely from arduino modules.  You can see a write-up of his original project here: Stunning Halo 3 Costumes and Energy Sword
The outer shell of our both swords were made by an amazing sculptor named Sean Bradley.  It was through Sean that Josh and I met each other; and beginning last fall, we began working closely to bring an arduino based sword controller to life as a kit.
New Features
Motion activated Sound Effects
Motion activated Lighting Effects
Lighting Animations: Extend, Detract, Pulsate, Flicker, Clash
LED arrays are off-the-shelf LED Strips of varying prices and pixel densities from Adafruit.
HD MP3 sound effects (and LOUD too, thanks to the built-in amplifier plus speaker)
Lastly, this circuit is USB programmable using the Arduino Software as a Leonardo board.
Preview of the 2014 sword circuit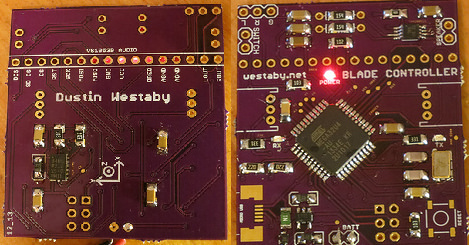 Another thing to note on this circuit board is the accelerometer chip on the back.  Wow, is that guy tiny!  Putting my hot air rework station to good use to get that guy soldered.